Explore With Bizzy - Soup Linky
Here comes Tuesday, when Chaya lets me scout around, searching for good recipes and tempting photos. Bizzy the Explorer (that's me) is searching for soup. Isn't soup wonderful when the weather is cold and trust me, it is cold here.
Coming home to soup, bubbling away, on the stove, is a dream come true. That would be for my husband. I come home and the stove is cold and the soup is still that dream.
Tonight, I made a Broccoli Cheddar Soup from Ellie Krieger's latest book, "Comfort Food Fix." The book is filled with healthy recipes that are easy to make and tasty. I have liked Ellie for a long time and cooked a share of her previous book. My husband, without knowing, always likes her recipes, a lot.
Broccoli Cheddar Soup (from Comfort Food Fix by Ellie Krieger)
Ingredients:

2 tablespoons olive oil1 medium onion, chopped
1/4 teaspoon garlic powder
1/4 teaspoon ground nutmeg
1 large head broccoli, florets and tender part of stem chopped (about 6 cups)
3 cups vegetable broth
2 medium potatoes, chopped
2 cups milk
2 tablespoons gluten-free or all purpose flour
1 1/4 cups lightly packed diced Monterrey Jack cheese (5 ounces)
1/4 teaspoon ground black pepper

Method:
Heat the oil in a soup pot over medium heat. Add the onion and cook, stirring, until softened and translucent, about 4 minutes. Add the garlic powder and nutmeg.

Add the broccoli and chicken broth and bring to a boil. Reduce the heat to medium low and cook until the broccoli is tender, about 5 minutes.

Meanwhile, in a small saucepan, whisk together the milk and flour, until dissolved. Heat the mixture over medium-high heat, stirring constantly, and bring to a gentle boil. Reduce the heat to medium low and cook, stirring occasionally, until the mixture has thickened, about 3 minutes.

Add one cup of the cheese and cook, stirring, until melted, 2 minutes more. Removed from the heat and cover to keep warm.

Use an immersion blender and puree the broccoli mixture, until it is mostly smooth with a few chunks.

While the broccoli is cooking, cover potatoes with water in a bowl and microwave for about 8 minutes, until cooked through but not mushy. Drain, saving 1/2 cup of the starchy water. Add potato pieces and water to the soup.

Stir in the cheese mixture, season with pepper, and cook over low heat until warmed through. Serve topped with the remaining cheese. (I mixed the remaining cheese into the soup. Serves 4.
This is a hearty soup, just right for the winter. It filled us up as well as warming us, up.
Back to what found on my ex
plorations. I climbed a very high mountain and landed at 101 Cookbooks and there was a lake of Green Pea Soup. Yummy.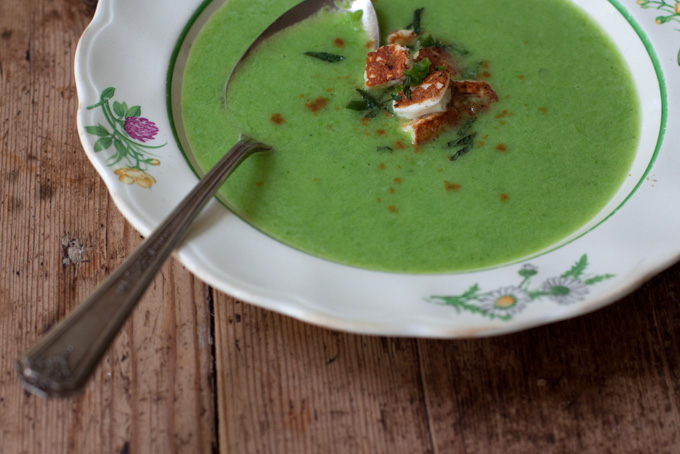 I had only to walk a short distance to find the home of soups, Kahakai Kitchen where you will find a weekly Souper Soups. (Deb knows how to spell.) This is Zupa di Ceci (Chickpea Soup).
Let's take a plane (I am a spoiled explorer.) Here we are at
La Bella Vita f
or some Pastina Chicken Soup.

A hop, skip and a jump and we find ourselves at All Our Fingers in the Pie with Baked Potato Soup.
Finally, we land at one of my favorite blogs, Barbara's Moveable Feasts where we find Cranberry Bean, Lacinato Kale and Pasta Soup.

I know Chaya will let me stay at Barbara's for a while and taste all her delicious recipes so I will say, "Good Night". If you have any soup recipes to share, please
link up, below.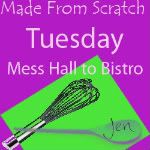 Real Food Wednesdays
Pennywise Platter
Whole Food Wednesdays
Pennywise Platter Thursday