Bake with Bizzy - Baked Beef Wontons
I looked through Chaya's Comfy Cook and found a recipe for baked wontons. Since Wonton Warrior is on a rampage, I brought it over to share with you and the warrior.
I am having great fun with my wontons and puffed pastry and I can't wait to share all the delicious recipes, I have created. Once, you get started, it becomes easy to throw a few things together and voila, have good eating. My only regret is that sometimes, I cook them in hot oil. I drain them as much as possible and they don't taste at all greasy so I am hoping that the quick cooking in really hot oil, protects the person enjoying these dishes.
I remember these wontons and they were tasty.
Baked Beef Wontons
Ingredients:
2 cups finely chopped cooked beef
1/3 cup shredded carrot
1 teaspoon cornstarch
1 tablespoon
1 tablespoon
soy sauce
1/2 teaspoons ground ginger
20 wonton wrappers
1 tablespoon olive oil
Plum or sweet-sour sauce
Method:
In a bowl, combine chopped beef and carrot .
In another bowl, combine cornstarch, water, soy sauce and ginger until smooth. Add to beef mixture; toss to coat.
Spoon 1 teaspoon of filling in the center of each wonton wrapper.
Moisten edges with water. Bring opposite points together; pinch to seal
.
Place on greased baking sheets. Brush oil over wontons.
Bake at 375 degrees for 10-12 minutes or until golden brown. Serve with plum or sweet-sour sauce.
Time to look at what you baked, last week.
MJ's Kitchen always has interesting dishes and here is one that I love. It is called Calabacitas Enchiladas.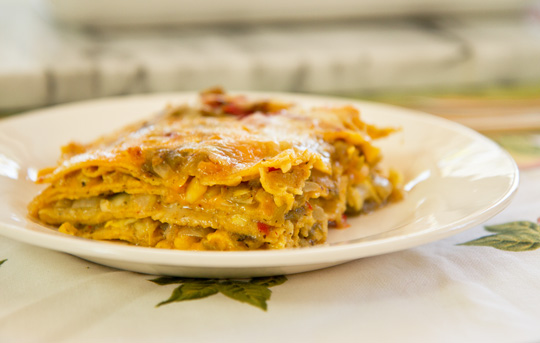 Next, we have Cheddar buns that are unbelievable. This is from Kitchen Flavours who is quite a baker. Look how soft these buns are and at all the delicious little sparks of color inside.
How about Sweet Potato Chips with Rosemary Salt from one very smart baker, Galley Kitchen? These are wonderful to eat and to make.
We need some sweet food so look at this one. Carrot Cake Pie from Crazy for Crust. This intrigues me. I look at the photo and I can taste it. Yummy.
This is linked to Hearth and Soul Pennywise Platters Frugal Food Thursdays Full Plate Thursdays
Wednesday Cast Party
GCC Recipe Swap
Your turn. Please join us.