Tomato Mozzarella Salads - Taste and Create
I am so ashamed. I can't believe what I did. Taste and Create was due in on the first of the month. Being an organized gal, weeks ago, I got the name of the person, I was partnering with and I went to her lovely blog and picked out some recipes to make. I then did what a good blogger does and made something but I have no idea what the something is. How does one lose a dish?
Easily, is the answer, at least for me. I run off lots of recipes and make some, each time, I go through the pile. I then, type the recipe into the blog and schedule it. This time, I didn't do it.
Of course, I went on cooking and never gave a thought to Taste and Create. Sorry Min. I went back to
Avocado-Pesto
and went through her recipes and while I have made similar recipes, they were not hers. Feeling rather foolish, I picked out a new recipe, needless to say, an easy recipe, so I could get this in, only a few days late. Note: I pride myself on being on time or at least, I used to.
I picked these t
omato mozzarella castles
- so yummy. There were many other yummy recipes but I did not have some of the ingredients. Am I happy, I could not make anything else (YES) because, we loved this, as a salad.
Tomato Mozzarella Castles
(adapted)
Ingredients:
4-5 oz mozzarella, thinly sliced
1 large tomato, thinly sliced
1 avocado, thinly sliced
1/8 small red onion, thinly sliced (just a few slivers for each layer)
2 tablespoons olive oil
1/2 teaspoon ground ginger
1/4 teaspoon black pepper
1/2 teaspoon honey
2 tablespoons lemon juice
salt, to taste
instead of the basil which was used in the original recipe, I used dill to decorate
Method:
1.Combine olive oil, ginger, pepper, honey, lemon juice and salt. Set aside.
2. On a plate layer tomato slice, mozzarella slice, avocado slice, and red onion slice. Repeat 1 or 2 more times. Drizzle mixture on top of tomato castles. Garnish with fresh dill.
We loved this so much, that I turned it, into a salad. My husband went on to eat the rest of dinner but I was craving more of this mixture. What I did was add only about a cup of salad greens, cut up another tomato, half of an avocado, some slices of red onion, mozzarella and additional dressing. I mixed it all together and sat down to the most delicious salad. The dressing is good and I would use it with other salads.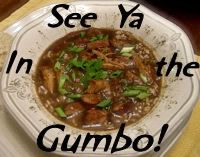 Permanent Posies
Frugal Food
Side Dish Saturdays
Thursdays