Healthy Eggplant Parmesan
I have made a variety of Eggplant Parmesan meals, over the years, each time seeking to find one healthier than the last. I found the one, I just made, at readytoeat.com. I had no real desire to make this one other than it looked healthy. It also looked bland. With a bit of seasoning, this was not bland, at all. I did replace the diced tomatoes and the can of sauce with bottled Marinara, keeping this as an easy recipe, as well.
To make it gluten-free, I subbed in crumbs from potato chips instead of the Italian style bread crumbs. If you are on a regular diet, I suggest using the bread crumbs because of the seasoning, built right into it. I added Italian seasoning to my "chip crumbs" and they had plenty of flavor. I did so with a heavy hand.
Healthy Eggplant Parmesan
Ingredients:
1 cup Italian-style bread crumbs

2 eggplant, peeled

Olive oil cooking spray

1 cup shredded part-skim mozzarella cheese

2 cups Marinara sauce

2 tablespoons Italian seasoning
Method:
Preheat oven to 425°F.
Add Italian seasoning to Chip Crumbs and place crumbs in shallow dish; set aside.
Cut each eggplant into 12 slices, about 1/2-inch thick.
Spray each side of slices with cooking spray. Coat with crumbs on both sides and place on baking sheet.
Bake 10 minutes or until tender, turning once.
Remove from oven and pour sauce over eggplant slices, only.
Top with cheese. Bake 5 minutes more until cheese has softened.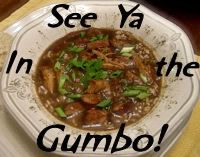 Baked these on Parchment Paper