Dilly Crusted Salmon SRC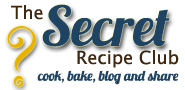 It is time for the Secret Recipe Club where we cook from an assigned blog. This month was a first for me. I could not find a recipe I did not want to make. I was super fortunate to be given Smells Like Brownies.
After reading Melissa's introduction about herself, I like her even more than her recipes. She is charming. She is a stay-at -home Mom who doesn't like fruit. Can you imagine? Despite this, her blog is filled with delicious and appealing recipes.
I plan to be cooking from this blog for quite a while. My list of recipes to make is long and lovely. Soups and muffins top my list. They seem to be my favorites these days.
I chose this salmon because that is what I needed at the moment. We have weekly salmon the day, I planned to cook for Smells Like Brownies, was salmon day. It turned out that these simple fillets were delicious and hubby who takes salmon for granted, "kvelled" (was extraordinarly pleased).
Dilly Crumb-Topped Salmon (adapted)

Ingredients:

1 cup tortilla chip crumbs

salt and black pepper

1 teaspoon dried dill

2 scallions, roughly chopped

1 tablespoon olive oil

1 tsp. fresh lemon juice, plus extra

4 6oz. salmon fillets


Method:

Preheat oven to 400°.
Lightly season crumbs with salt and black pepper, then add in the dill and scallions. Process until the dill is well mixed in. Pour in the melted butter and lemon juice. Process until wet, crumbly clumps form.

Pat the salmon dry, then season tops lightly with salt and pepper.

Heat oil in skillet. Sear the salmon, seasoned side down, for 2 minutes.

Transfer salmon to a foil-lined baking dish. Top each fillet with the dill crumbs.

Bake 8–10 minutes, until flesh flakes easily with a fork.
Eat and enjoy.
Thanks Melissa.