Aunt's Apple Cake SRC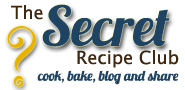 Secret Recipe Club (SRC) time is here. again, for the second group under the capable leadership of Suzanne of Thru the Bugs on my Windshield and April from Angel's Homestead.
The blog, I was assigned is No Reason Needed. Strangely enough, she had my blog, last month, in another group. It happens, I was about to bake and happily found this yummy apple cake. I knew hubby would enjoy it which he did.
This is easy to make and I had all the ingredients on hand.

Aunt's Apple Cake (adapted from No Reason Needed)

Ingredients:

3/4 cup all-purpose flour

3/4 tsp baking powder

4 large apples

2 eggs

3/4 cup sugar

1 teaspoon rum extract

1/2 teaspoon cinnamon

8 tablespoons oil


Method:

Preheat oven to 350 degrees F. Lightly grease and flour a square baking pan.

Beat oil and eggs until foamy. Add the sugar, flour, cinnamon, baking powder, salt and Rum flavoring; mix well.

Add apples, diced to the size you prefer. I like chunks . Spoon mixture into prepared baking pan (9x9 square).
Bake in 350 degree oven for 30 to 40 minutes. Cool cake for at least, 10 minutes, before removing.
Eat and enjoy.