Chicken and Brussels Sprouts Stir Fry - SRS
Time for the Secret Recipe Swap. I love these reveal days. So many wonderful recipes are showered upon us.
This month, the blog I have cooked from is Sugar Dish Me and Heather is the one that makes the magic on this blog. Heather describes herself as resident mommy, home cook, baker, and sugar dish maker. She is the mother of two boys who you will find on the blog. Like most of us, she likes to cook and in my most humble opinion has cooked what I term as interesting dishes. The photos and choice of ingredients had me salivating. Selecting a recipe was not easy until I remembered the brussels sprouts in my refrigerator.
This is usually what happens to me. I select a great soup or cake and imagine it on the table and then see I have an overabundance of some vegetable or fruit and the decision is out of my hands. It usually works out well.
This time, it certainly did. This dish has foods, I adore, broccoli, cauliflower, brussels sprouts and a meat. Heather used beef and I used chicken. A stir fry is almost always delicious and easy to make. This proved true once again.
Chicken and Brussels Sprouts Fry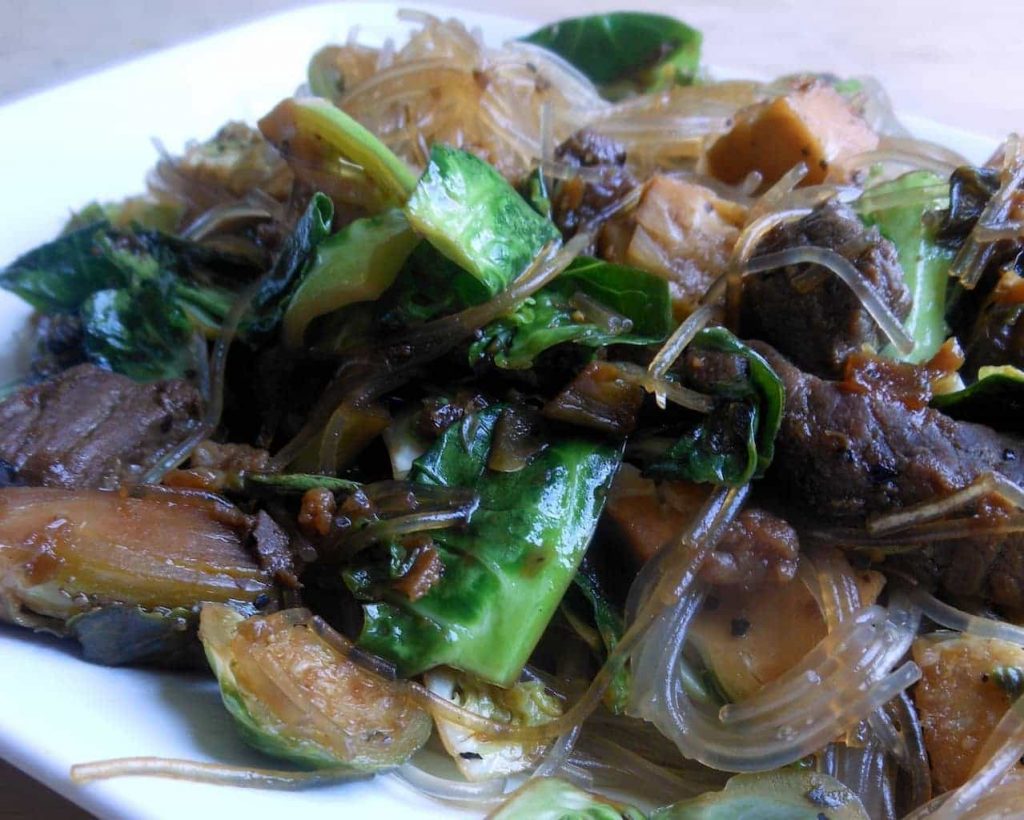 adapted from - Sugar Dish Me

Ingredients :

1 tablespoon olive oil
1 medium onion, diced
1/2 clove garlic, minced
1 pound thinly sliced roasted chicken (already cooked)
1½ teaspoons sesame oil
1 cup water
2-3 tablespoons low-sodium soy sauce
1 cup chopped broccoli florets
1 cup chopped cauliflower florets
4 cups chopped Brussels sprouts
1 teaspoon black pepper
Cooked rice, for serving

Method:

In a large skillet heat the oil over medium high. Add the onions and cook for about 3 minutes until they soften and are translucent. Add the garlic and let it cook for about a minute.

Then add the chicken and drizzle the sesame oil over the chicken. Cook for one minute to heat.

Pour in the water and soy sauce. Let it start to simmer and add the brussels sprouts. Toss and stir with the onions, garlic,chicken, and sauce. Cook for about 7 minutes, stirring occasionally.

Add the broccoli and cauliflower and sprinkle with the black pepper, and cook everything until the Brussels sprouts are tender and the broccoli is still bright green and slightly crisp.

Serve over rice or noodles.