Wonton Warrior Misses YOU!
Wonton Warrior has been gone for too long and I know I miss him, very much. He misses us too. He told me so.
I decided, it is time, I explored with all different combinations, to make wontons. I chose to start with this Sun Dried Tomato variety. It is no big deal to put together and it is even easier to cook.
A disclaimer - I really don't like frying food. I did try to boil this first and frankly, it was a flop. The taste was fine although it was more like the soft ones, you get in a Chinese restaurant. I wanted a crispy wonton. I have learned to use enough oil to accomplish this. I used to barely put oil in the pan and it took forever to cook. In hot oil, it takes a minute or two. In fact, if you turn away for too long, it has probably gotten too dark.
Sun Dried Tomato Wontons
Ingredients:
30 wontons
1 cup whipped cream cheese
1/3 -1/2 cup sun dried tomatoes, chopped
1 tablespoon plain yogurt (
if you don't have, I am sure milk will do
)
1/2 teaspoon garlic powder
salt to taste
teeniest bit of cayenne pepper
1/4 teaspoon hot paprika
1/2 sweet paprika (more if you want a redder color)
I meant to put in chopped onion and forgot it
Method:
In a small bowl, mix yogurt and cream cheese thoroughly. Add paprika, onion, salt, garlic powder, pepper, cayenne and sun dried tomatoes. Mix.
Line up your wontons about 8 at a time.
Using the water or egg wash with finger wet the rim of the wonton. Put about a teaspoon of filling in the center of opened wonton.
Fold over and press down to seal the wonton. Make sure it is tightly sealed. I used a fork, pressing the tines around the outside of the wonton.
If you want to boil these, drop in boiling water for 20 minutes.
If you are frying, drop into at least one inch of hot oil. The oil should sizzle when you drop in the wontons. Only put a few wontons at a time into saucepan. Turn in about a minute. You have to watch to see where it is as brown as you want it to be. Please, be very careful; the oil is very hot.
Remove from saucepan and drain on paper towels.
Serve. We eat them plain but there are sauces you can have with these. Simply, salsa would be fine. A basil pesto might be good.
Linked to $5 Dinners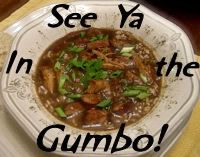 Linked to Homestead Barn Hop MMMM