Recipe Box # 37 - Baked Cheesy Broccoli Patties
I love broccoli and I love broccoli with cheese, even more. Mixing everything together was a true pleasure because I knew, I would adore the results and I did. Hubby liked them but was not nearly as enthusiastic as I was.
This was my lunch yesterday and it makes the perfect lunch or a side, at dinner or even first thing, in the morning. The idea of baking them instead of frying made this all the more appealing
Baked Cheesy Broccoli Patties
Ingredients:
Spray olive oil
1 - 2 teaspoons olive oil

1/teaspoon garlic powder
1/2 onion, diced
1 small bag frozen broccoli
3/4 cup Tortilla crumbs
1/2 cup cheddar cheese
1/4 cup Parmesan
2 eggs, beaten
pepper to taste

Method:

Preheat the oven to 400 degrees. Spray with cooking oil a cookie sheet.

Saute onions in skillet until translucent.
Chop frozen broccoli a little smaller. It does not have to be tiny but not too chunky.

Place chopped broccoli in large bowl. Add the tortilla crumbs, cheese, eggs, and pepper.
Mix well so that you will be able to shape patties. I used an ice cream scoop and kept that shape.

Bake for 20 minutes at 400 degrees.
Eat and enjoy.
Looking back:
Eggplant Parmesan from Turnips to Tangerines - this could easily be a favorite.
Cabbage Casserole from Heavenly Savings - I am a cabbage lover so this is just for me.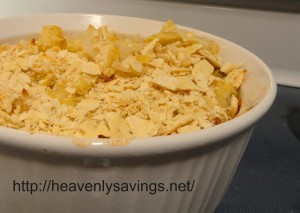 Creole Chicken from
Frugal Follies
. I would love this with noodles as well as rice. Yum.
Linked to: All My Bloggy Friends
Simple Supper Tuesday S
picy Thursday
See Ya in the Gumbo
Your turn: