Recipe Box # 35 - Magazines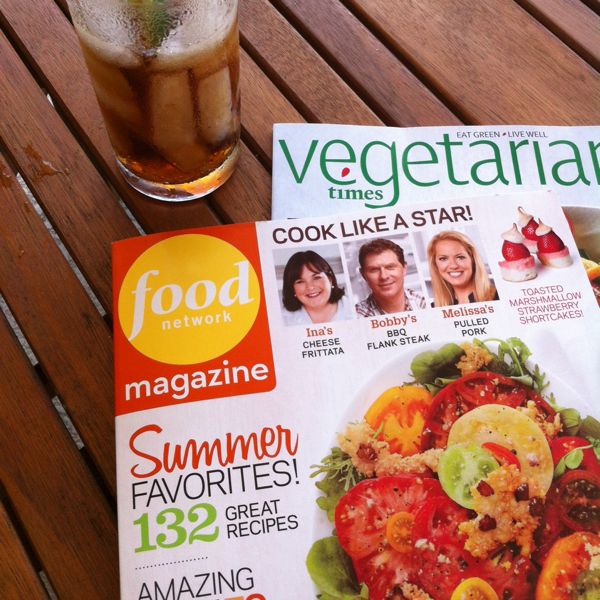 I have a pile of cooking magazines to read but I can't a moment time to read them. When it comes time to select a recipe, I turn to a cookbook or the Internet, not a magazine. I have been giving thought to the value of these mags.
I am referring to the value for me based on how I use them. I keep two or three on my kitchen table so when I have a cup of coffee or sit down to lunch, I can go through them. I keep another one by my bed and it keeps me company, at night, if I am not reading a book. Usually, I am reading that book. Hubby and I are both readers and many the night, we both fall asleep with a book in hand.
That leaves the magazines to be read in short spurts. I see lots of recipes in them that I want to make. Unless, I mark them, at that moment, I don't usually go back to them. The permanence of a cookbook has me using them over and over. Magazines don't have the same value.
I have made a decision to use my magazines for general information and entertainment. Pick up a Food Network magazine and it is entertaining from cover to cover. It is also a way to get to know the chefs that many of us cook from.
Eating Well and Cooking Light are full of tips and information to make me a cook that is more aware of healthy eating. Considering the changes, we have made, in our meals, this is a real plus. Another one that I walk away from filled with ideas is Vegetarian.
I also receive Gluten-free magazines and a kosher one called Joy of Kosher. I love both for their specialties. They probably keep my attention the longest.
Share your favorite magazines in the comment section of this post. Time to look at last week's entries. I wonder how many of them come from magazines.
Lookin
g back:
Fox in the Kitchen presents these Cocoa-Mocha Cup

cakes.
Couponing and Cooking ma

de this Guacamole Fresco.
What will this new week bring? I hope lo

ts of goodies. Please do comment on your favorite magazine. Thanks.