Crispy Baked Sweet Potato Fries - SRC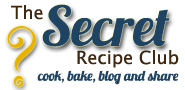 It seems like a long time since I posted for the Secret Recipe Club. I enjoy it a great deal and when I don't have a blog to search through looking for my pick of a recipe, I am looking forward to my next assignment.
A special thank you to Suzanne, leader of Team B. I can't imagine the logisti

cs that go into scheduling our secret recipe blogs.
This month, lucky me got Amy's Cooking Adventures. Yes, Amy has wonderful recipes but

I am in love with are her two adorable sons. It must be a delight to cook for these two darlings.
Amy, like me, did not have extensive experience cooking in the kitchen, as a child and in fact, she was already a Mom before she discovered her desire to make healthier and more appealing food, for the family. If you visit

, you will tell by her photos, she has accomplished this.
I selected her Crispy Baked Sweet Potato Fries. I had difficulty making the crust and that may be because I had to sub in sweet potato chip crumbs for the breading. The photo may not look beautiful but I can tell you that the baked fries are delicious and a real treat. Check Amy's blog for a much better photo - the way they are supposed to look. Thanks A

my!
Crispy Sweet Potato Fries (adapted)
An Amy Original

Ingredients:

4 medium sweet potatoes, cut into sticks
2 eggs, beaten
1 tablespoon water
½ cup sweet potato chip crumbs
2 tablespoons grated parmesan cheese
¼ teaspoon cayenne pepper
¼ teaspoon black pepper
2 teaspoons olive oil
Method:

Preheat oven to 450 degrees F. Spray a rimmed cookie sheet with cooking spray.

In a shallow bowl, whisk together egg and water.

In another shallow bowl, stir together sweet potato chip crumbs, parmesan, cayenne, & black pepper.

Dredge the cut sweet potatoes through the egg mixture. Allow the excess to drip off, then add to the crumb mixture, turning until completely coated. Place the coated fries in a single layer on the prepared baking sheet. Spray with olive oil.

Bake for 30 minutes, stirring occasionally, until fries are browned and crisp.
Eat and enjoy. Check out our other secret recipe participants below. Linked to See Ya in the Gumbo.