Corn Dog Muffins - Secret Recipe Club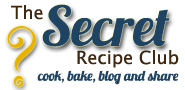 Yeah - a new blog to look through - new recipes - lots of fun - good eating - that must mean the SRC is at work and today is Reveal Day. My assigned blog is Sid's Sea Palm Cooking. What an interesting writer and cook. There are three blogs belonging to Sid and reading what I will call the more personal one, I see a deep thinker and an interesting person, someone who notices the world that surrounds us.
The recipes on the blog are temptation personified from the gluten-free to the Danish. Check out the Tapas and Boat Club Nights where you could visit for long stretches of time.
I chose these corn dog muffins because they are minis. I know that sounds like a weird reason to select a recipe but for those who know my love of anything mini, you might just understand. These are adorable and were gobbled up quickly.
Corn Dog Muffins
Ingredients:
2 cups Yellow Cornmeal

1/2 cup Gluten-Free Flour
1 Tablespoon Baking Powder
1 Teaspoon Baking Soda
1/2 Teaspoon Salt
1/4 Cup Honey
1 1/2 Cups Buttermilk
2 Large Eggs
1/4 Cup olive Oil
3-4 Hot Dogs, cut into 1/2 inch coins
Method:
Preheat oven to 400 degrees.

Mix the dry ingredients together in a bowl, set aside.
In a separate bowl, whisk together the wet ingredients,
Pour the wet ingredients over the dry ingredients and thoroughly combine with a whisk.
Place a teaspoon of batter into the greased mini muffin tins.
Then put the hot dog 'coin' into the batter and top with another teaspoon of batter.
Bake for about 15 minutes and serve. Eat and enjoy.
Linked to
What'd You Do this Weekend
Simple Supper Tuesday
Tasty Tuesdays
Tuesday's Table
Simply Sugar and Gluten Free
The Gathering Spot
Two Cup Tuesday
See Ya in the Gumbo
Hearth and Soul
My Sweet and Savory